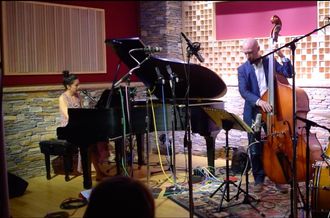 "When I was a kid, one of the first sounds that made me want to run out and buy a recording was Jerry Lee Lewis playing Great Balls of Fire ... it was just too exciting!  I didn't know piano could sound like that.  Now, when I'm having a good time at the piano, it is that same feeling I had as a kid.  I love to play jazz and blues piano and discover great new sounds! Here are some of the videos off my Youtube Channel.  Enjoy!  - Cynthia 
"Bluegrass Boogie-Woogie", an original tune by American Boogie-Woogie pianist, Caroline Dahl, performed at Jammin' Java in Vienna, VA for Key Women Tribute.
More tunes!
Laughing at Life, by Kansas City Five, a jazz ensemble with members from the Count Basie Orchestra in the late 1930s featuring trumpeter Buck Clayton, drummer Jo Jones, bassist Walter Page, rhythm guitarist Freddie Green and Eddie Durham's electric guitar, and later on Lester Young.  
How Long Blues is one of the first blues tunes my teacher Caroline Dahl taught me, and here I am doing a vocal rendition and piano accompaniment, after listening to a Leroy Carr recording. Leroy Carr (1905-1935), an influential American blues singer, pianist, and composer of songs.